Hambara Mehana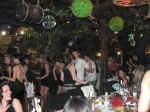 Open
: от 17,00 ч. до 01,00 ч.
Find out more on Zavedenia.BG:
Hambara Mehana
Hambara Mehana
. is a restaurant in varna, Bulgaria. The restaurant is located in Morska gradina. The address of restaurant Hambara Mehana is . You can contact the venue at the following telephone 0897860710, 052711338, you need to add 00359 if you call outside Bulgaria. If the information about Hambara Mehana is not accurate, please inform us.