Mehana Bulgari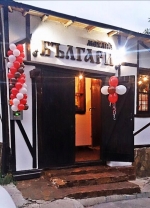 Open
: 10-02, неделя до 24:00
Find out more on Zavedenia.BG:
Mehana Bulgari
http://mehanabulgari.com
Mehana Bulgari
. is a restaurant in varna, Bulgaria. The restaurant is located in Vazrajdane. The address of restaurant Mehana Bulgari is . You can contact the venue at the following telephone , you need to add 00359 if you call outside Bulgaria. If the information about Mehana Bulgari is not accurate, please inform us.