Pette Kiosheta Varna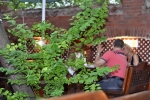 Address:
Cherven ploshtad, ul. Makedonia 44
Open
: 10-24
Find out more on Zavedenia.BG:
Pette Kiosheta Varna
http://www.niksfood.com/
Welcome to Five Corners Varna restaurant chain! Five Corners Tavern is located in the central part of Varna, on the street \"Graf Ignatiev 29. It has 40 seats. The tavern is a very elaborate account of desire and in the old Bulgarian folk style. we offer a warm and friendly welcome to all our visitors in a pleasant atmosphere of the old Bulgarian house, with a fireplace, authentic rugs and household items. The interior is complemented by a unique hunting style for which each hunter would have envied.! Five Corners Restaurant Varna 3, is of a Rustic style and \"is located on Street Tsarevets 38. It has 40 seats and garden with 120 seats, a WI-FI, TV Both restaurants offer typical Bulgarian dishes with a memorable taste, variety of salads, savory entrees and appetizers, delicious dishes made from old recipes. Connoisseurs of good wine can choose from a unique collection of over 120 species selected wines! The door will welcome you with a smile! Will serve you perfectly! We will advise you competently! Visit us! We will make a fuss of you!
Pette Kiosheta Varna
. is a restaurant in varna, Bulgaria. The restaurant is located in Cherven ploshtad. The address of restaurant Pette Kiosheta Varna is ul. Makedonia 44. You can contact the venue at the following telephone 052460006, you need to add 00359 if you call outside Bulgaria. If the information about Pette Kiosheta Varna is not accurate, please inform us.