Restaurant BM Gradinata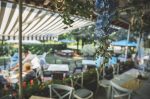 Address:
Morska gradina, m-st Saltanat 43
Open
: 10:00-00:00
Find out more on Zavedenia.BG:
Restaurant BM Gradinata
BM Restaurants. A Taste of Sea BM The Garden sits at the cross point between the city and the sea. The restaurant opened in 2004 in the Sea Garden of Varna, and its ambience is a wonderful blend of homely, old-world charm, peaceful harmony and genuine delight all the year round. Explore the variety of tastes, from seafood to BBQ, in classical or Chef's recipes, accompanied by a sophisticated wine list. Cuisine: Mediterranean, European. From the rich aroma of the cup of coffee to start the day to the sheer joy of a tempting dessert at dusk, everything you will try here has been prepared with love.
Restaurant BM Gradinata
. is a restaurant in varna, Bulgaria. The restaurant is located in Morska gradina. The address of restaurant Restaurant BM Gradinata is m-st Saltanat 43. You can contact the venue at the following telephone 052300481, 0885668750, you need to add 00359 if you call outside Bulgaria. If the information about Restaurant BM Gradinata is not accurate, please inform us.