Complex BARITE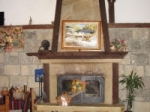 Open
: петък 11.00 - 23.30, събота 11.00 - 23.3
Find out more on Zavedenia.BG:
Complex BARITE
http://www.complexbarite.com/bg/
Complex BARITE
. is a restaurant in varna, Bulgaria. The restaurant is located in . The address of restaurant Complex BARITE is . You can contact the venue at the following telephone 0885141953 , you need to add 00359 if you call outside Bulgaria. If the information about Complex BARITE is not accurate, please inform us.